Investment Services
Investment Services
The Investment Centers of America Team located at Home State Bank offers over 100 years of combined investment experience to guide you through tough financial decisions. That's something you can take to the bank.
You face a lot of tough financial decisions, like "what do I do when the market goes south? How much should I have saved toward my retirement? If I shouldn't have all my eggs in one basket, where should I have them? Am I paying too much in taxes? And, how much insurance should I have?" You may have tried to make these decisions on your own, or through brokers who put their own priorities ahead of yours. More often than not, this leads to results that are less than you'd hoped for. The guidance of an experienced team of financial professionals, with your interests at heart, is imperative when it comes to taking care of your money matters. And it IS your money that matters.
For guidance on stocks and bonds, annuities, mutual funds, insurance, college funding, tax advantaged investing, retirement, and estate strategies, call the experienced team of Investment Centers of America, Inc. located at Home State Bank.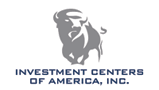 Please read the ICA PRIVACY POLICY.
Investment Centers of America, Inc. (ICA) member FINRA, SIPC is not affiliated with Home State Bank. Securities and insurance products offered through ICA and affiliated insurance agencies are:
*not insured by the FDIC or any other Federal Government agency
*not a deposit or other obligation of, or guaranteed by any bank or their affiliates
*subject to risks including the possible loss of principal amount invested.
This site is for informational purposes only and is not intended to be a solicitation or offering of any security and:
*Representatives of a Registered Broker-Dealer ("BD") or Registered Investment Advisor ("IA") may only conduct business in a state if the representatives and the BD or IA they represent, (a) satisfy the qualification requirements of, and are approved to do business by, that state; or (b) are excluded or exempted from that state's registration requirements.
*Representatives of a BD or IA are deemed to conduct business in a state to the extent that they would provide individualized responses to investor inquiries that involve (a) effecting, or attempting to effect, transactions in securities; or (b) rendering personalized investment advice for compensation.
*We are registered to offer securities in the following states: AK, AR, AZ, CA, CO, FL, IA, ID, IL, KS, KY, LA, MA, ME, MI, MN, MO, MT, NC, ND, NE, NJ, NM, NV, NY, OH, OK, OR, PA, RI, SC, SD, TX, UT, VA, WA, WI, WY.